Can Dogs Have Magnesium Citrate? | Xen Pets
What is Magnesium Citrate?
Magnesium citrate is used in dogs for a number of treatments. These treatments can range from treating constipation, muscle tension, and to promote relaxation. The FDA (U.S. Food & Drug Administration) has approved this drug for use in humans. But can dogs have Magnesium Citrate? Yes! Your furry friend can benefit greatly from Magnesium Citrate, especially since some may be in a magnesium deficiency. Dogs require essential vitamins too! Read on to understand the benefits!
Xen Pets Calming Chews contain 3 mg of Magnesium Citrate for your dog per serving (2 Chews). Our chews are great for promoting relaxation and relief in your dog.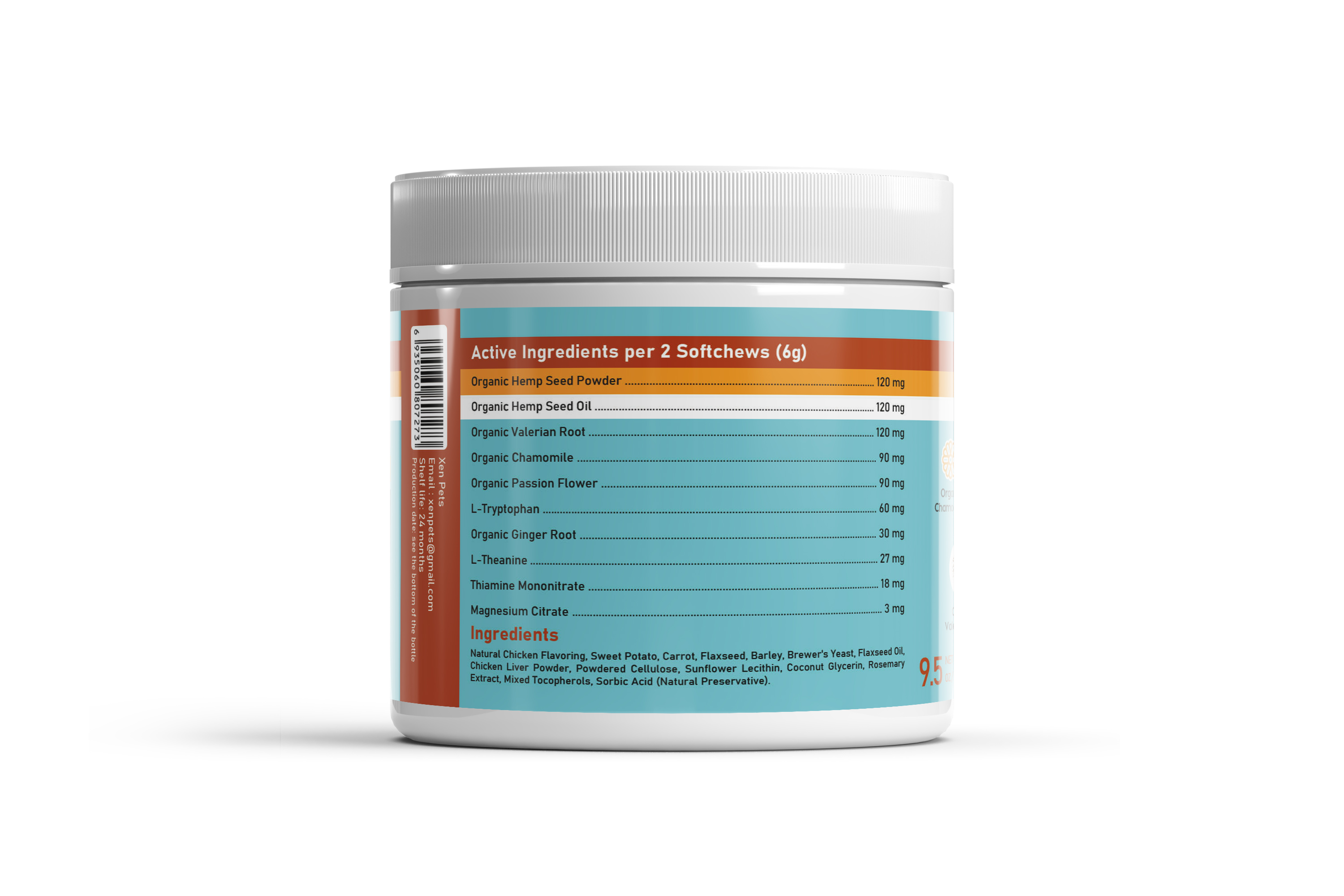 Magnesium Deficiency In Dogs
Magnesium deficiency can often be overlooked. In some cases, magnesium deficiency may be underdiagnosed and the obvious signs don't appear until your dogs levels become severely low. See common symptoms below
Muscle cramps or twitches

Osteoporosis

Mental health conditions

High blood pressure

Fatigue and muscle weakness

Asthma

Irregular heartbeat
Can dogs Take Magnesium For Constipation?
This is a great question, and one we receive often. One of the main benefits of Magnesium Citrate for your dog will be relieving constipation and freeing up your dogs uncomfortable stomach. We've noticed throughout our history that quite a few dogs suffer from constipation, but fear not there are simple remedies such as Magnesium supplements.
Normal daily functioning

Protein production

Blood sugar and blood pressure control

Bone health

Making DNA

Creating energy
How much Magnesium Is Needed For a Dogs Constipation?
A typical dose of Magnesium Citrate will contain about 150 mg of Magnesium Citrate. Some products are designed specifically for dogs that require immediate relief. On the other hand, a daily dose for general health can be found in our Calming Chews.
This can be a lot of Magnesium Citrate that is needed, especially in supplement form. So, why not go the natural route!
Natural Sources of Magnesium Citrate for Dogs
Water - Tap water can contain magnesium, but it's difficult to know how much magnesium they contain. This will wholly depend on the source of your water.

Peanuts! We all know dogs love peanut butter. Try giving your furry friend a dose of PB to help with their magnesium citrate intake.

Black beans. Although not a typical dog diet! Black beans are very healthy and can be consumed by your dog.
Can I give my dog human magnesium supplements?
Magnesium Citrate for humans may have a higher dosage amount than can be considered safe for dogs. Additionally, dogs take Magnesium Citrate in a different form that is easier and more interesting to them! So, can dogs have magnesium citrate made for humans? No, we typically provide Magnesium supplements created specifically for dogs.
Magnesium for dogs and it's many health benefits (Video)
What form of magnesium is best For Dogs?
Dogs require essential vitamins, and sometimes it can difficult to get your dog to comply! This can result in a magnesium deficiency. Check out our recommendations below.
Chew form. Great for dogs who will eat anything! They also come in many flavors. At Xen Pets, our calming chews come in a chicken flavor that dogs absolutely love.

Liquid form. This is great for dogs who may not like the taste of magnesium supplements.